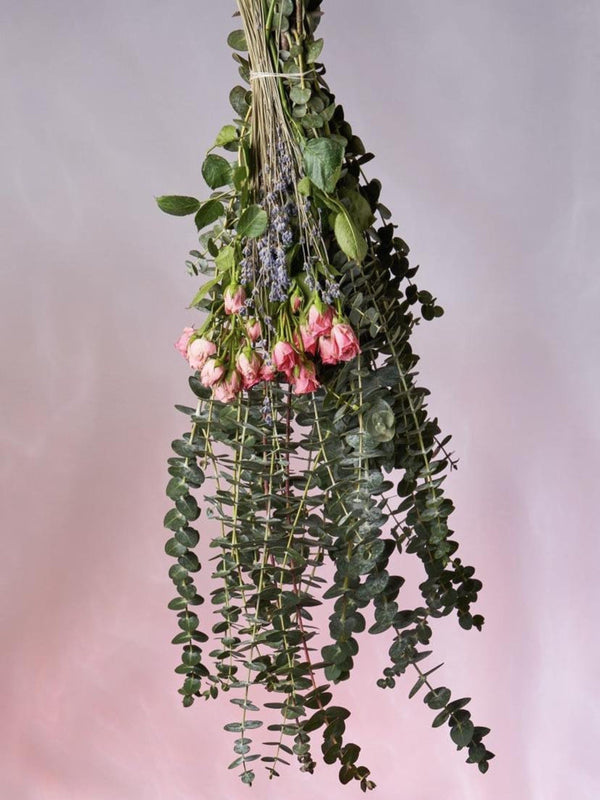 Aroma bouquet - Shower bundle Eucalyptus rose and lavender
What Is a Eucalyptus Shower Steamer bundle?


A eucalyptus shower steamer is a bouquet of botanical branches.  This arrangement will give you an aromatherapy experience you won't forget.

Transform shower time into an indulgent spa-like aromatherapy experience with this beautiful botanical shower steamer. Not only is it aesthetically pleasing, you can rest assured that it has been hand tied just for you from resinous and aromatic eucalyptus branches.

You can hang the bundle behind your shower head (away from the water stream) and allow the steam to activate the essential oils in each plant. Turn the mundane habit of showering into magical moments of plant infused self care.

The eucalyptus bundles typically last for about one month before they should be replaced, but may last longer with proper care. The bundle can be used as a room decor by simply hanging from the wall. The whole bundle dries really well maintains its petals and branches and color will fade into in very harmonies antique tone. 
 
Eucalyptus was cut from Southern California Eucalyptus farm we receive the fresh twice a week. Bundle may contain mix of different eucalyptus tree branches. Vase is not included. Image is for suggestion only.  
Please note-You deserve the very best!  If a flower/plant color or variety is not available, we will make a substitution of equal or greater value and will maintain the look and feel of the arrangement pictured. Container substitution may also occur based on availability.